This is a place where you can learn a little bit more about me, my interests, and my work.   Download my CV (CV March 2022) and check out my "2- minute Teaching Philosophy" from Spring 2021.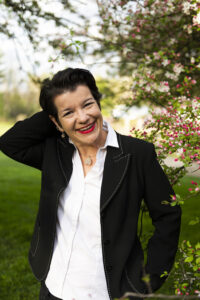 I am an assistant professor for Sociology and Criminal Justice at the University of Akron, OH since Fall 2019, and a Certified Clinical Sociological Practitioner. My research interest are gardening in incarcerated settings, women in the criminal (in)justice system, and qualitative methods. I love to "infect" students with experiential and service learning and I thrive on (good) espresso.
Latest Doings….
First paper on gardening in the women's community corrections facility is out!
I was so excited that I got to comment on the amazing work of Liz Lerman on at the Dancing Conversation: Women & Witchcraft organized by the fabulous NCC Akron on May 20, 2021.
In March 2021 I presented preliminary findings on a garden for eomen in a community corrections facility I helped initiate with collaborators at the prisongardenjustice.org conference.
I am a proud member of Sociologists for Women in Society and serve on the professional development committee for the Association for Applied and Clinical Sociologists.
In spring 2018 I officially joined my friends at  Queer STS  and 2020 I got to co-edit a really intriguing issue of the Queer STS Forum #5 about "doing" queer STS in pandemic time, featuring a cool collective writing piece from  feminist mothering  graz I helped birth years ago.
I am honored to be board member of the Red Bird Center for Healing, and excited to serve on the advisory board for Chagrin Arts.