This is a place where you can learn a little bit more about me, my interests, and my work. For quick reference you can download my CV (June 2019)and Teaching Philosophy.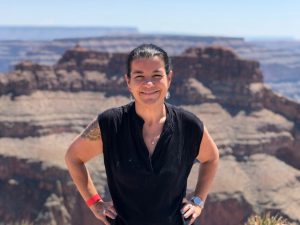 NEWS:
I am excited about my new professional challenge as assistant professor for Sociology and Criminal Justice at the University of Akron, OH (starting in fall 2019) after an amazing, educational, and inspiring year at Oriana House, Inc.
Clients share in the local news how the benefited from the pilot garden project I initiated at Oriana House, Inc. May 31, 2019, and here another article about the program.
Since fall 2018 I am elected member of the Membership Committee of Sociologists for Women in Society.
In spring 2018 I officially joined my friends at  Queer STS , and am excited to be board member of the Red Bird Center for Healing.
Activism Goes Global: Experiences of "Sociologists for Women in Society" at the UN.  Brock Education Journal. Vol 27, No 1 (2017).
Out now!  A video-performance on "Gagafeminist Teaching" powered by sol haring film and Anita P. Moerth, presented 2017 at the D-A-CH gender studies conference in Cologne/Germany.
Brochure against anti-feminist propaganda for gender studies students released in February 2017:  gleichBERECHTIGTE WISSENSCHAFT fundiert argumentieren für GENDER STUDIES