I am assistant professor (joint appointment Sociology/Criminal Justice) at the University of Akron and a Certified Clinical Sociological Practitioner. I  am interested in clinical sociology in carceral settings intersecting with environmental justice, gender studies, and qualitative methods.   I moved to back to Ohio in Fall 2017,  after leaving a 2 year appointment as assistant visiting professor at the University of Graz, Department of Education Studies.  I continued  my professional journey as full time Research Specialist at Oriana House, Inc. from June 2018 to June 2019.
I helped initiate a new gardening program in a women's facility together with community partners (Let's Grow Akron, OSU Extension Office) and a first article on this work has been published. I work closely and comparatively with Dr. Sharon Everhardt and her prison garden team at Troy University, Alabama and hope to build and research more community gardens in correctional settings.  You can  see an earlier 15 minute presentation on preliminary results here.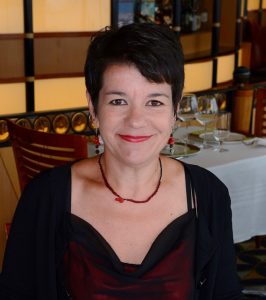 June 2019
I am also a freelance sociologist, specializing in qualitative methodology and can be booked as research consultant  for feminist/social science projects. Since 2014 I  am a research associate of the fabulous Institute for Masculinity Research and Gender Studies at the Association for Men and Gender Issues Styria, Graz, Austria.
I emcee feminist and/or sociological events and conferences, and am experienced in facilitating workshops and innovative educational formats in adult education settings (such as DisQSpace, World Cafe, etc).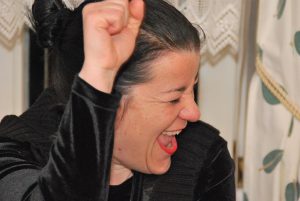 March 2017, Pic: Andreas Graf
From 2013  to 2017 I lived back in Austria (2-year Fulbright home residency requirement) after a 6 year stint in Ohio for my graduate work and was blessed to take frequent strolls through the forests with my daughter Amani (*Dec 4, 2013) and work for my Alma Mater and other Austrian universities. Life and family are took me back to Ohio permanently in Fall 2017.
I collected 15+ years of experience in teaching in the US and in Europe.  I taught a variety of courses in qualitative methodology, sociology, and gender studies at the University of Akron, OH at the Universities of Graz,  Klagenfurt, Salzburg, and the Academy for Fine Arts in Vienna. I have just received the University of Akron Achievement Award for "Outstanding Teacher" Award (March 2022).  Find here have frequently been invited as guest speaker and understand myself as an educator suited for all kinds of contexts and generation. You can download my CV and (an old!) Teaching Philosophy here (yes, I need to update!) and here is a 2 minute intro video of me from March 2021.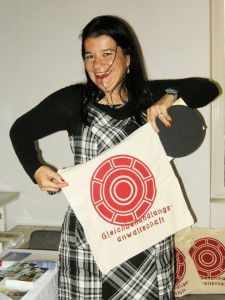 As guest speaker for an event by the Equal Opportunities Ombud,
Graz 2015
I earned my Master in Sociology from the University of Graz/Austria (2002) and have worked as feminist social worker (1996-2002), elected independent women representative to the city council of Graz (2002-2004), and project manager for a European 6th framework program at the Department of Sociology Graz (2004-2007). I was elected delegate to the UN for Sociologists for Women in Society (SWS) from 2011-13, and have recently gotten back into the CSW arena in 2022.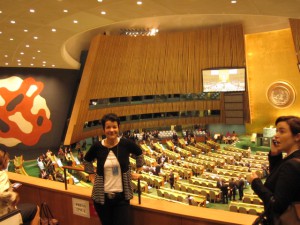 At the UN General Assembly, Internship 2010
I graduated in sociology from the University of Akron/OH in 2013 as a Fulbright student with my dissertation entitled GLOBAL GENDER POLICY DEVELOPMENT IN THE UN: A SOCIOLOGICAL EXPLORATION OF THE POLITICS, PROCESSES, AND LANGUAGE.
I publish on the intersections of qualitative methodology in social research, (trans)gender studies, and global gender and human rights, and currently work on several papers on feminist didactics in and beyond gender and queer studies and a book proposal based on my dissertation.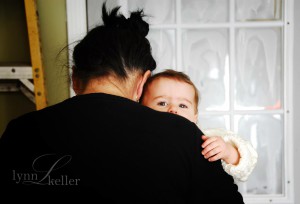 The love of my life, 2014